General Engineering Services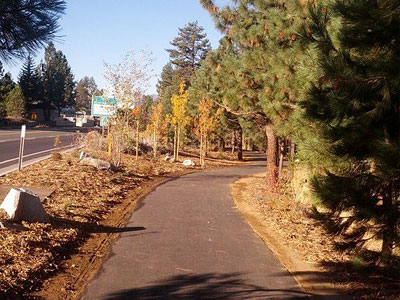 Herback General Engineering is a well-established brand in the construction industry. We provide a wide range of services such as commercial, residential, government, and industrial under a single roof. We have worked on several projects in Arizona, California, and Nevada.
Our extensive network of trustworthy local contractors provides all the resources and workforce needed to complete a project. We can handle all kinds of projects, regardless of size and scale. From constructing bridges to installing underground utilities, our experts can handle it all. Here is an in-depth look at all our services:
Environmental/Stream Restoration
Construction, human activity, and adverse natural conditions harm an area's environment. They can dry out streams, cause erosion, kill plant life, and cause many other such problems, and we provide expert stream and environment restoration services to help the landscape on your property thrive. Our professional team can handle soil investigation, erosion control, habitat restoration, irrigation design and restoration, steep slope stabilization, wetland restoration, and much more. If you want to improve the local ecosystem, we can help. Our team will thoroughly examine the project site, determine what needs to be done to restore it, and then offer a detailed quote regarding the project. You can make an informed decision based on this quote. Read More About Environmental/Stream Restoration >>
GPS Machine Control
Most construction sites require some preparation before they can be used. This preparation is only possible if the developers have adequate information about the site. A GPS machine control system measures the grading, position, slope, and related factors using sophisticated GPS technology. It is the same system that helps you navigate and find different locations but optimized to provide a real-time look at a site's topography. This allows developers to ensure the project moves smoothly, and their site development endeavors are accurate. GPS machine control offers several advantages over traditional options like accuracy, cost-effectiveness, and speed. It is a much better alternative to conventional manual grading and scanning. Read More About GPS Machine Control >>
Underground Wet: Sewer, Storms & Water
Several essential utilities are installed underground, so they are out of the way and protected from the elements. The underground wet services include installations like sewers, water supply mains, storm drains, irrigation systems, and other such components. As experienced contractors, we know how to install these systems properly while ensuring they are robust enough to handle the underground environment. We use the latest techniques and materials for the project. Underground components should be able to handle pressure from the environment around them. Our team uses approved parts and follows local code requirements to the letter. We will use the latest technology to scan the ground carefully before coming up with an installation plan. Read More About Underground Wet: Sewer, Storms & Water >>
Underground Dry: Communications & Power
Underground dry utilities include installations like television cables, telephone wires, power supply lines, internet connections, and lighting system wires. All these components should be installed carefully to ensure there are no accidents or disruptions in service down the line. We follow the local code guidelines and use certified components to install pole foundations and bases, vault structures, mainline services and structures, substations, conduits, manholes, and other such systems. Our expert will double-check every component of the installation to make sure they are secure. We can handle projects of all sizes, including government buildings, corporate offices, retail establishments, homes, residential complexes, entertainment venues, and more. Read More About Underground Dry: Communications & Power >>
Water Treatment Plants
Wastewater must be treated and purified before it is released into the environment, as this helps prevent pollution. Untreated water can introduce dangerous toxins, harmful biological agents, and polluting chemicals into natural water sources like lakes, rivers, streams, and seas. A water treatment plant will remove all the toxic substances from the water, making sure it is fit for consumption before releasing it. As experienced contractors, we can install all kinds of wastewater treatment systems. Our experts can help if you want to install one for your residential complex or an entire community. They will first assess the site thoroughly and calculate the requirements before recommending a water treatment system, best suited for your needs. Read More About Water Treatment Plants >>
Arsenic Treatment Plants
Arsenic is a naturally occurring chemical found in all water bodies. Water is relatively safe for consumption if it has low arsenic levels, but it can quickly become toxic if the levels increase. An arsenic treatment plant will reduce the levels of the chemical present in the water and make it safe for consumption. This treatment is carried out in many ways, including lime precipitation, oxidation, biological processes, coagulation, and much more. Our experts will first take your requirements into account before recommending an arsenic treatment plant for your property. We will make sure the chemical levels in the water remain within safe limits. Read More About Arsenic Treatment Plants >>
Radio Communication Towers
Radio communication towers are tall structures that support sophisticated radio communication systems like antennas, wires, sensors, etc. These towers are an essential component of modern telecommunication systems, so you need to hire an experienced contractor to install them. Our experts are familiar with the different kinds of towers and know how they work in various environments. They will recommend a design based on your project requirements. Communication tower installation is a complex process that requires a lot of planning. We will help you pick the right location, choose the right materials, and then carry out the installation according to local code requirements. This ensures your tower is resilient and will last for several decades. Read More About Radio Communication Towers >>
Long Span Bridges
Long-span bridges are structures that span more than 120 meters in length. They are built over significant gaps in a landscape like rivers or valleys. A robust long-span bridge is stable, can handle adverse environmental conditions, and can last for several decades. We understand what is involved in building these massive structures and can build a secure one for you. Long-span bridges come in different forms, including steel arch, continuous plate girder, cantilever truss, cable-stayed, and suspension. Well-designed and constructed bridges can handle a lot of load without failing. Our experts follow the established standards and make sure the structure is completely safe for use. Read More About Long-Span Bridges >>
Underground Utilities
Almost every modern property has a complex network of connected utility lines. These systems supply electricity, power lights, establish internet and phone connections, supply water, remove the sewage, drain stormwater, etc. Most of these connections are installed underground to protect them from the environment and keep them out of sight. Installing underground utilities is a complex process that requires detailed plans. We conduct a thorough scan of the ground before designing a roadmap for the project. Many plots already have some utility lines in the ground, so our experts come up with ways to work around them. We always follow local code guidelines to ensure the installation is safe and does not disrupt any system around it. Read More About Underground Utilities >>
Excavation and Grading
The natural landscape is uneven and full of obstacles. It often needs significant grading and excavation to be suitable for construction projects. Grading is the process of leveling the ground until it is relatively flat and stable. At the same time, excavation is the process of digging into the earth and moving excess material from the site. Our team uses reliable heavy machinery for earth moving. We look at factors like soil quality, property size, land density, and erosion control requirements while planning a project. All experts that work on the site are certified and experienced contractors who know how to handle heavy machinery safely. They will make sure your land is ready for all future projects. Read More About Excavation and Grading >>
Demolition and Site Cleaning
If the site for a future project has buildings, abandoned structures, or other such obstacles, it needs demolition and site cleaning. Demolition will break down all unwanted structures safely. We use proven techniques and create a tailored plan of approach for every project to minimize damage to the surroundings. Once the demolition is complete, a site cleaning crew will sort through all debris to identify what can be recycled. We also send specialists who can handle toxic materials according to the state safety guidelines so you can be confident the site will be ready for use. Our experts can carry out a full or partial demolition of different structures ranging from small houses to retail establishments. Read More About Demolition and Site Cleaning >>
Site Development
A fresh plot of land is not always suitable for construction. It may have a steep slope, hard ground, unhealthy soil, and other such complications. Our site development team carefully studies the plot using sophisticated tools to determine what needs to be done to improve its quality. They then come up with a detailed site development plan to ensure the plot is ready for the project. The plan can include excavation, grading, demolition, tree transplants, erosion control, environmental restoration, and other such processes. Our experts have the skill and qualifications needed to identify vulnerabilities in a site quickly before taking steps to improve it. Read More About Site Development >>
Concrete Work
Concrete is one of the most popular construction materials because it is reliable, durable, affordable, and easy to adapt. It can be used in foundations, walls, roads, sidewalks, patios, floors, and other such areas. Concrete work requires a lot of skill and an in-depth understanding of how the compound works. We have vast experience with all kinds of concrete, so you can trust us to use the material efficiently. Our team can install concrete in residential, commercial, industrial, and government properties. We know how to work with a plan, reinforced, lightweight, precast, high-density, shotcrete, and other types of compounds to get the best results. Read More About Concrete Work >>
Asphalt Paving
Asphalt is a popular choice for paving because it is both durable and affordable. It has a low ownership cost, does not require much maintenance, and is suitable for all kinds of properties. One of the most significant benefits of asphalt is that it is 100% recyclable, and recycled asphalt is more resilient than a fresh compound. We understand how this material works, and we also know how to create robust pavements from it. Our team will first prepare the ground to ensure it is level and stable before installing the asphalt material. We know how to work with different kinds of asphalt compounds to get the best results for your project. Read More About Asphalt Paving >>
We customize our services according to the client's requirements. You just need to explain the project requirements to our experts and let them come up with a good plan of approach. Our team works with over 1,300 local subcontractors that are familiar with state building code guidelines. They will make sure your project passes all inspections and is safe for use. If you want to know more about our services, get in touch with Herback General Engineering. Please use our contact us form or give us a call at 775-267-6800.