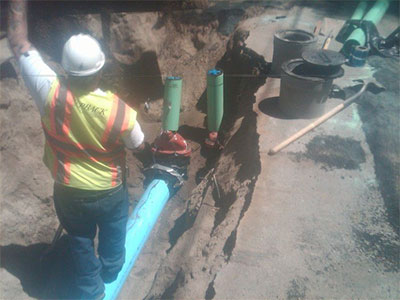 Water treatment plants are an essential installation that can help protect the environment and limit natural water pollution. These plants clean all kinds of wastewater until they free of toxic or polluting waste. The cleaned water can be released into natural systems like rivers, streams, or seas without concerns about severe environmental impact.
At Herback General Engineering, we have built many water treatment plant projects in Arizona, Nevada, and California. We work with well-established local subcontractors to ensure the work is done correctly and the installation lives up to the local building code requirements.
Types of Wastewater Treatment Plants
There are different ways to handle wastewater treatment, so you need to choose a system based on your requirements. Our trained experts will ask you questions about the project and offer unbiased, straightforward recommendations on the type of plant you may need. Here is a look at the most common options available:
Effluent Treatment Plant
An effluent water treatment plant is one of the most popular solutions and is used by many leading businesses. It can remove toxic and non-toxic waste from the water, which means industrial wastewater can be released into the environment without worries. The treatment plant also removes dirt, debris, polymers, grit, and other such pollutants from the system.
Sewage Treatment Plant
This plant handles domestic wastewater treatment, making sure the household sewage is safe enough to be released in natural water systems. The treatment involves several physical, biological, and chemical techniques to remove harmful contaminants. The process yields wastewater that can be used to improve the environment. The thorough filtration produces clean water that can be used for consumption once again.
Common and Combined Effluent Treatment Plants
Common or combined treatment plants are for small industries that cannot establish their treatment plant. A group of businesses can come together and commission water treatment plant construction jointly. Our team will analyze all your requirements carefully before coming up with a common or combined effluent treatment facility plan, which reduces the overall expense and pollution levels significantly.
Activated Sludge
Activated sludge treatment plants are like sewage plants. They also use chemical, physical, and biological methods to clean the waste effectively before releasing it into the environment.
All these plants do not just help reduce water pollution, but also help control the spread of waterborne diseases from germs like Hepatitis A, Cryptosporidium, Giardia intestinalis, E. coli, and much more.
Wastewater Treatment Plant Construction
Wastewater treatment plant construction is a complex and intricate project. As experienced professionals, we understand the process like the back of our hand and make sure you have an efficient installation that fits your budget. Our team can build plants for small industries, large manufacturing units, townships and communities, and private establishments.
If you want to know more about water treatment plants, get in touch with Herback General Engineering. Please use our contact us form or give us a call at 775-267-6800.