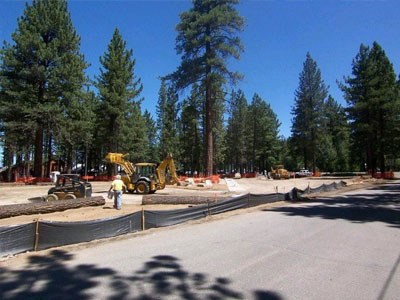 Sometimes the site you like has an old building or structure that does not suit your requirements. You can hire building demolition and site clean-up services to ensure the land is free of all older structures. At Herback General Engineering, we have worked on several such projects in the Western United States. Our team works with subcontractors in Arizona, California, and Nevada to ensure all demolition and site cleaning happens according to local code requirements.
Demolition and Site Preparation
Demolition and site preparation services involve breaking down an existing structure and clearing the resultant debris. We will send qualified and certified professionals who know the safest demolition techniques and have the required equipment for this process.
Building Demolition Services
Demolition is a complex process that requires careful planning and a systematic approach. As experienced professionals, we take every precaution possible to ensure the project goes smoothly and no one is injured on site. Here is a look at our process:
Assessment and Planning – Our first step is to assess the property carefully and determine what kind of demolition techniques will work well. Our subcontractors will also communicate with clients directly to understand their priorities and preferences during the planning period.
Protecting – Some clients do not require a complete demolition and only wish to take down individual sections of the property. Our team will set up protective structures to ensure the other parts of the property remain unharmed.
Controlling Dust – Demolition generates a lot of fine dust particles and debris that can get everywhere. We implement dust control measures to limit the spread and keep other areas of your property safe. Controlling dust also reduces the burden on our clean-up crew.
All our experts wear protective gear and use safe techniques to carry out building demolition services. They will also clear the area to ensure no one is harmed during the process.
Construction Site Clean-up
Site cleaning is the process of removing all undesirable elements from a site and making sure it is easy for a building project. A comprehensive site clean-up requires a well-planned approach. Here is a look at how we do it:
Sorting through Debris – The first and most essential step is to sort through the debris. Most site debris contains a combination of non-toxic, toxic, recyclable, and non-recyclable items. We need to follow different kinds of disposal guidelines for different types of debris. Our team will sort through the site and divide the waste into different categories.
Transporting – The next step is to carry all items to disposal sites carefully. Qualified subcontractors with vast experience in the field handle this process to ensure no local laws are violated. They haul the debris to assigned dumping grounds, recycling centers, and other such locations.
A building demolition clean-up service will also include clearing dust and fine debris. We can also send qualified professionals to handle toxic or hazardous materials safely.
If you want to know more about demolition and site cleaning, get in touch with Herback General Engineering. Please use our contact us form or give us a call at 775-267-6800.