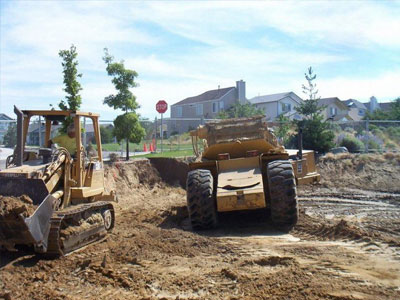 Every piece of land comes with its challenges and obstacles. No plot is entirely ready for construction, and sometimes you need to invest in extensive site development to make the ground productive. At Herback General Engineering, we have worked on several sites in the Western United States and know how to dig up a site's hidden potential. Our team works with qualified local subcontractors from Nevada, California, and Arizona.
Construction Site Development Process
A good site development plan is a comprehensive, step-by-step roadmap for a development team to make a property suitable for use. The development process requires a careful approach to ensure there are no issues down the line when construction has begun. Here is a look at the process:
Assessing the Site – The first step is to thoroughly evaluate and study the site that needs to be developed. Experienced developers use sophisticated measuring equipment to analyze factors like topography, grading, existing installations, underground utilities, etc., to understand what they are dealing with.
Site Development Costs – The site development cost will differ from one project to another. Once our team conducts a thorough assessment, they will come up with a budget and timeline for the project. You can discuss the details with them and ask questions about the different aspects of the property. We only start working on the plan after approval from the client.
Development a Plan – A site plan includes installations within the plot borders and the surrounding structures. Other things like underground structures, fire and flooding hazards, driveways and parking lots, construction limits, zoning, etc. are also considered. It is a detailed sketch of what the property will look like after all the construction is complete.
Site Development Process – The site development process involves different tasks like demolition, tree and boulder removal, excavation, cut and fill, and grading. The goal is to ensure the entire plot is safe and ready for use.
Once the development project is complete, the experts will double-check the plot to ensure everything is in order before declaring the site ready.
Site Development Contractors
Site development requires an understanding of topography, soil quality, environment, architecture, and related factors. It is best to hire a qualified, certified, and experienced professional to handle the process. We offer a wide range of services and can come up with a sustainable site development plan, so your property is easier to build on and maintain.
We have provided site development services to private builders, government bodies, and state and federal authorities. Our team is fully capable of handling projects of all sizes to the client's satisfaction. We work with over 1,300 local subcontractors who are familiar with local building codes and other such regulations. They will make sure the project can pass inspections and provides a strong foundation for future construction. Our team can handle demolition and clearing, excavation, installing foundation and utilities, road building, and aggregate installation. If you want to know more about site development, get in touch with Herback General Engineering. Please use our contact us form or give us a call at 775-267-6800.