Radio Communication Towers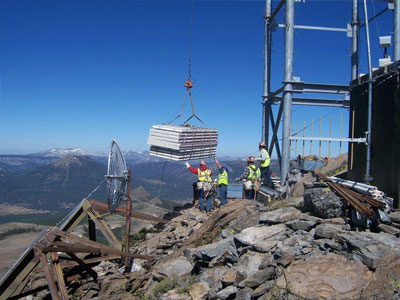 Modern communication systems are still mostly land-based and require a network of communication towers. These towers support sophisticated equipment and help transport radio signals over vast distances.
Without these structures, you will not have a functional and reliable communication network. At Herback General Engineering, we understand the nuances involved in constructing radio communication towers. Our team works with local subcontractors across California, Arizona, and Nevada to install these structures.
Radio Masts and Towers
Radio towers are structures that support equipment for transmitting different kinds of telecommunication signals. They have antennas, wires, and dishes and other such equipment to help support a network. Here is a look at what these radio communication towers broadcast:
Television shows
Radio channels
Internet radio
Satellite radio
Wireless communications
Cellular communication
Two-way radio
And much more
Every tower is a hub of different communications technologies, so they need to be designed carefully for the best results. As experienced radio tower installers, we know how different kinds of structures work and can recommend an option uniquely suitable for your requirements.
Types of Radio Communication Towers
Radio communication towers can be categorized into two broad categories based on their design: guyed and self-supporting. There are other designs available for specialized requirements as well. Here is a look at some of the most used radio communication tower types:
Guyed Tower – Guyed towers are extremely popular because they are strong, resilient, and easy to install. They can support all kinds of communication equipment and be modified to suit different requirements. These towers are often made from steel and are supported by durable steel cables anchored to the ground.
Self-Support Towers – Self-support towers are suitable for almost every kind of application, from radio to wireless communication. They are three-legged or four-legged structures that can stand independently and handle different weather conditions well. They are suitable for small installation sites and can be reasonably compact.
Camouflage Towers – These towers are suitable for urban areas and residential communities because they are disguised as decorative installations. The towers often look like palm trees, pine trees, clock towers, etc., to ensure a large radio structure does not spoil the neighborhood's aesthetics.
Other options include mobile cell towers, monopole towers, and lattice towers. You can choose an option that suits your requirements well.
Radio Tower Construction
Several guidelines and regulations govern radio tower construction. These structures can pose a risk to the human population in the vicinity, so we plan every step of the installation process carefully. Our team works with subcontractors who are familiar with local codes and regulations. We make sure the towers are stable, durable, and built using proven materials. Our team will also make sure they have signals and lights to warn air traffic, so the large structures do not cause any issues. If you want to know more about radio communication towers, get in touch with Herback General Engineering. Please use our contact us form or give us a call at 775-267-6800.