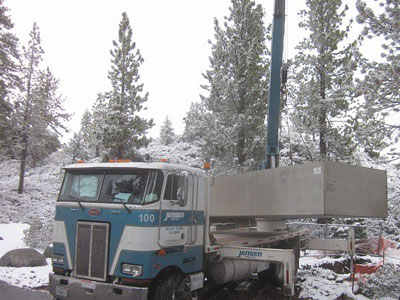 Concrete is one of the most popular building materials available today. When installed correctly, it can last for decades and handle all kinds of environmental conditions without faltering. Almost every modern construction project uses concrete in some way.
At Herback General Engineering, we have worked with this material for several years and understand how it performs. Our team has handled concrete construction projects in Arizona, California, and Nevada with excellent results.
Types of Concrete
Concrete is a mixture of cement, water, and coarse or fine aggregates. It is a resilient material that can be used in different structures, from office buildings to large dams. This compound comes in various forms, and each type has some benefits. Here is a look at the types of concrete we work with:
Plain
Reinforced
Lightweight
High-density
Precast blocks
Prestressed concrete
Air-entrained
Glass-reinforced
Self-compacting
Polymer concrete
High-strength concrete
Shotcrete
These are just some of the many varieties of concrete available today. All of them have distinctive characteristics that make them suitable for some projects. For example, you need reinforced concrete for load-bearing structures. Our concrete construction experts have an in-depth understanding of this material and know what to use on a project.
Concrete Work Contractors
We have worked on residential, commercial, industrial, and public concrete construction projects. No job is too big or small for us as our team collaborates with over 1,300 local subcontractors on projects. These subcontractors are experts with several years of experience under their belt. They are also familiar with local code requirements and will make sure your project can pass all inspections. Here is a look at what we can help with:
Driveways, patios, walkways, and sidewalks
Roads and streets
Sports courts like basketball, football, tennis, and more
Foundations and slabs for new buildings
Commercial garage and storage areas
Retaining or boundary walls
Concrete floors for residential and commercial properties
We can help, no matter what kind of concrete work you have in mind. Just contact our team and explain your requirements. They will provide a customized solution and a detailed estimate for the project. We can work on flatwork, footing, foundation, slabs, walls, and other such installations.
Residential and Commercial Concrete Construction
We have a well-planned approach to all projects. Our team first carries out a thorough inspection of the property. Concrete work requires a good ground condition to be stable, so our experts will look at factors like slope, grading, obstacles, underground installations, etc., during the assessment. We can provide a detailed cost estimate along with a timeline for the work.
Once the project is approved, our team starts by preparing the ground for concrete installation. For example, we need to make sure the area is level to install flatwork otherwise, the concrete will crack after it dries. Our experts then apply concrete and add finishing touches to the surface.
If you want to know more about concrete work, get in touch with Herback General Engineering. Please use our contact us form or give us a call at 775-267-6800.