Underground Dry: Communications & Power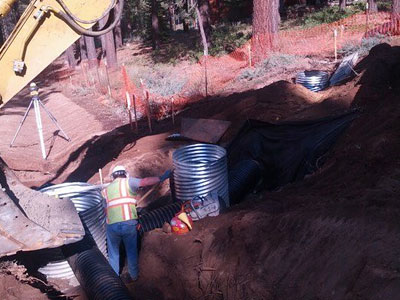 Underground installations do not just involve sewage, water supply, and other such plumbing installations. There are several 'dry' line installations underground as well. At Herback General Engineering, we have worked on several residential, commercial, federal, and state projects over the years. We know how these installations work and will make sure they are durable. Our experts work with experienced local subcontractors in Arizona, California, and Nevada to deliver the best quality work.
Underground Dry Utilities
We are an experienced underground dry utility contractor with in-depth knowledge of the best installation techniques and equipment to use. Our team can install all kinds of dry utilities, including:
Telecommunication Lines
These involve telephone and internet lines placed underground to protect them from the elements while keeping them out of the way. We can install everything from traditional copper wire cables to modern fiber-optic lines.
Power and Electrical System Lines
Power and electrical systems can be complex, especially on large properties. A significant portion of a building's electrical system remains underground, safe from tampering and wear. We can connect the property to public supply lines and create a personal network of power lines for your property. Our team has installed complex networks on properties like government buildings, large organizations, and properties with multiple buildings. We always follow the latest code requirements and make sure the installation is safe.
Cable TV Lines
Cable TV lines are also installed underground. Most modern properties have satellite cable or use the internet for entertainment, but some premises do require traditional cable installation. Our dry utility installation team will place cable lines at the right places and create an accessible network for your property.
Lighting Infrastructure
Lighting infrastructure involves a series of underground power lines that power outdoor bulbs, lamps, and other such installations. Things like streetlamps, backyard lighting, large signage, decorative lighting, etc., are connected to this underground network of power lines.
All these projects require an in-depth understanding of electrical and telecommunication systems as well as their different components. We always follow the building code guidelines for such projects to ensure safety.
We can also install other dry utilities like vault structures, pole foundations and bases, mainline services and structures, conduits, substations, manholes, and more.
Professional Dry Utility Installation Service
We approach all projects, whether big or small, with a definite plan in place. Our team takes your requirements into account before coming up with a strategy. Experts use sophisticated ground scanning equipment and technical experience to determine the best installation sites.
All communication lines and power lines are up to the latest standards as we source materials from trusted manufacturers. These components are installed according to the latest building code requirements for maximum safety and peak performance. We will double-check everything to ensure the system is safe for use.
If you want to know more about underground dry utility installation, get in touch with Herback General Engineering. Please use our contact us form or give us a call at 775-267-6800.