Environmental/Stream Restoration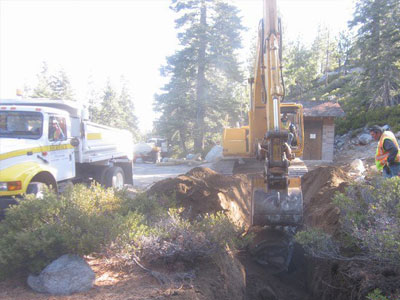 Urbanization and rampant construction have a significant impact on the environment, especially if builders do not take steps to protect the local ecosystem and work around it. At Herback General Engineering, we have seen human activity ruin natural landscapes, killing rich systems that would have improved the local environment.
An environment restoration service will help the ecosystem heal. We have worked on several projects in California, Arizona, and Nevada, hiring local subcontractors to help restore streams, woodlands, and other such areas.
What is Environmental Repair?
Environmental or stream repair is a way to restore damaged or destroyed environments. An experienced environmental restoration planner will use earth moving equipment, proven restoration techniques, and solid environmental science to improve a degraded area. The land looks, feels, and grows better after the entire restoration period is complete. A single project can include several aspects like:
Soil investigation and erosion control
Stream restoration
Habitat restoration
Steep slope stabilization and restoration
Irrigation design and restoration
Wetland restoration
And more
As an experienced company, we aim for low-maintenance and durable solutions because that helps preserve the long-term health of an ecosystem. If the restoration is too challenging to maintain, it will not last, and the land will need a full repair once again.
Stream Restoration Before and After
Streams restore life to a dehydrated and desolate land. With our environmental planner's help, you will see the area surrounding a restored stream flourish in a short amount of time. We use the latest ecological restoration methods to get the desired results. Here is a look at some of the approaches our experts take for stream restoration:
Cross-vanes reduce bank erosion and redirect the flow of water to a central channel.
Log vane involves placing large logs along the bank to redirect fast water from banks, which also helps prevent erosion.
Grading and planting maintain stream direction and flow while preventing erosion. The trees with mature roots keep the fertile soil anchored in place even when the stream is full and fast.
Wood debris control erosion provides a buffer for the stream bank and offers several shelter areas to encourage aquatic life. Debris will encourage underwater ecosystem development.
We also use techniques like step pools, bush layering, and planting to restore a stream while encouraging ecological development.
Our Environmental/Stream Restoration Service
Different projects require different approaches. We offer custom solutions to our clients by keeping their priorities in mind. Here is a look at why you should consider our services:
We are an experienced environmental restoration company that has been around since 2003.
Clients have access to over 1,300 reliable contractors spread out over the entire Western United States.
Our environmental and stream restoration costs are reasonable without any compromise in the quality of work.
We have worked on several Federal, local public, and private civil projects over the years.
If you want to know more about our environmental or stream restoration services, get in touch with Herback General Engineering. Please use our contact us form or give us a call at 775-267-6800.