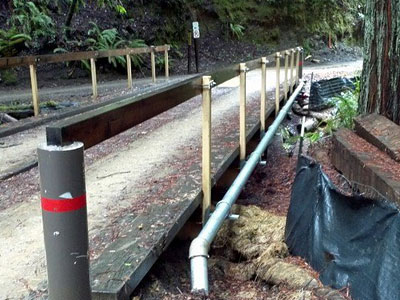 Underground utilities are installations placed under the surface. This location is convenient and can protect the utilities from outdoor conditions effectively. Most essential systems have now moved underground as that frees up room above the grade for other installations that require quick access.
At Herback General Engineering, we have carried out several underground utility installation projects in the Western United States. We work with subcontractors in Arizona, California, and Nevada to ensure all projects comply with the local code.
What are Underground Utilities?
Underground utilities can be broadly classified into two groups: wet and dry. The dry installations involve things like power lines to phone wires. The wet installations include everything from sewers to water mains. Here is a look at the different installations:
Electricity and Power Lines – A property's primary power lines are often present under the ground. This system is connected to a public supply line to ensure your property receives electricity supply steadily.
Telecommunication Lines – Telecommunication lines like phone wires, internet cables, TV cables, etc., are also installed underground. This keeps them out of the way and ensures outdoor elements do not damage them.
Outdoor Lighting Systems – Outdoor lighting systems include traffic lights, streetlights, backyard lighting, signage, and other such installations. The wires and power supply connected to these systems are often underground.
Water Supply Mains – Pipes that bring water supply from public sources to your property are installed underground.
Sewage Systems – Drains, private sewers, public sewage systems, and connected pipelines remain underground and out of sight. This protects the surrounding areas from accidental sewage spills or any unpleasant odors.
Stormwater Drains – Stormwater drains are essential to help prevent flooding and erosion. They are placed at strategic points throughout the property and collect stormwater effectively. This water is then transported to a public drain system.
Irrigation Systems – Irrigation systems like sprinklers, farm irrigation, lawn irrigation, etc., have a complex network of pipes under the ground. These are connected to above-ground components like sprinkler heads.
These underground pipes and cables need to be installed carefully to avoid disrupting the systems around them. Most of the underground real estate in populated areas are occupied with different kinds of utilities. Our job is to find the best location for new installations and plan a functional layout that does not hamper someone else's supply.
Underground Utility Construction
As experienced underground utility contractors, we have worked on different kinds of projects over the years. Our team can install utilities on commercial, industrial, residential, and government properties. We work with a network of 1,300 subcontractors who ensure all projects live up to the local code requirements.
Our experts will use tried and tested equipment like pipes, cables, essential components, etc., during the installation. The goal is to make sure these systems can handle intense pressure from the soil and remain intact for several decades. If you want to know more about installing underground utilities, get in touch with Herback General Engineering. Please use our contact us form or give us a call at 775-267-6800.