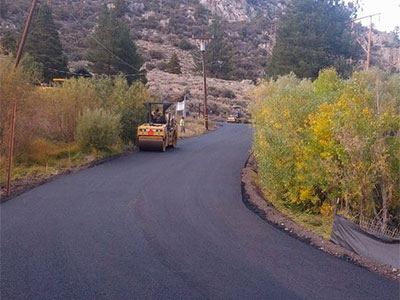 Pavements should be strong enough to handle constant traffic, adverse weather conditions, and different kinds of loads quickly. These structures are made from concrete, stone, or brick materials, but the most popular option is asphalt. At Herback General Engineering, we are expert asphalt paving contractors.
We have worked on several state, federal, private, and public projects in the Western United States. Our network of local subcontractors in Arizona, Nevada, and California provides support while ensuring every project lives up to the local building code standards.
Benefits of Asphalt Pavements
Asphalt pavements are popular because they offer a wide range of benefits and are suitable for different applications. Here is a look at some of the most significant advantages of this material:
Recyclable – Most property owners are concerned about the environment and want to use sustainable construction methods. Asphalt is 100% recyclable and recycled asphalt retains all the qualities that make it an excellent construction material. It is more robust and has more rut resistance than newly mixed asphalt.
Long-Lasting – A pavement installed by an experienced asphalt contractor will last for 15 to 20 years if maintained well, even in high traffic areas. Regular preventive maintenance can extend its lifespan considerably.
Maintenance and Repairs are Easy – It is easy to maintain or repair an asphalt pavement. Potholes can be filled, and cracks can be sealed in a matter of minutes. Long-term maintenance is quick and cost-effective.
Affordable – This paving material is more affordable than its alternatives like concrete, stone, or brick. It is cheaper to install and maintain, which makes it an excellent choice for both residential and commercial use.
All these benefits make asphalt great paving material for different kinds of projects. We can use it on public or private roads, driveways, parking lots, and other such locations.
Types of Asphalt
Different types of asphalt compounds are available today, and they have unique qualities that make them suitable for specific projects. The asphalt options include:
Porous asphalt
Warm mix asphalt
Hot mix asphalt
Cold mix asphalt
Coarse graded asphalt
Our team first takes time to understand your project requirements before recommending the best type of asphalt. We use proven asphalt paving methods to get the best results and ensure the pavement lasts for a long time.
Asphalt Paving Process
The asphalt paving process starts with removing old pavement and preparing the ground for a new installation. We remove anything that makes the ground uneven and unsuitable for the pavement. The next step is to prepare the surface, making sure it is level and stable.
Our experts use gravel to create a strong base for the asphalt so that it lasts for a long time. The last step is to lay the material and let it cure for a few hours. The road is ready for use when the asphalt dries and settles down. If you want to know more about asphalt paving, get in touch with Herback General Engineering. Please use our contact us form or give us a call at 775-267-6800.